Testimonies & Reviews about
the Fine Art of Thai massage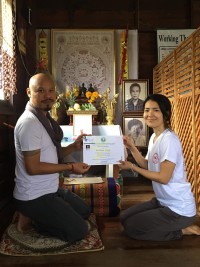 If you want to share your own review, feel free to write on TripAdvisor or Google. Thank you!
Madoka lshibashi from Japan 01/01/2018
I took three weeks diploma course in Jan 2018 with Mac and it was a great experience! I'm very happy that I found here among many schools and courses in Chiang Mai. 
I was new to Thai massage. But I could smoothly get in to this traditional therapy method thanks for Mac's clear and simple instruction. There are lots of techniques but most essential part is foundation in general. Many levels of aspirants come back here to relearn the essence of Thai massage from Mac, because of his deep knowledge, experience and dedication. 
During the course, he was giving great attention to all the students, showing his attitude how to face our(not only clients' but us masseurs') body/mind with great concentration and care. Living and leaning together in such a beautiful enviroment, we had receiced something more than massage skill from Mac.  
The school is located in a small beautiful villadge about 10 km away from Old City. This homey place will help our mind to be calm and peaceful so that we could fully concentrate on training.(There is a small market in walk distance so you can get most of the things there) 
We also enjoyed wonderful vegetarian lunch together after every morning class(Mac is a great chef too!)  
Thank you, Mac! Practice, practice, practice!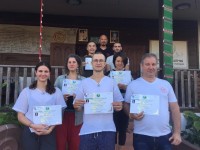 Charlotte from France 04/12/2017

Mac,
I wanted to say a big thank you for all you did for us, it was a really good experience for me and it remains good memories.
As you know, we used to live 1 year in Australia before to come in Thailand and it wasn't easy every day, in Australia after many months working we decided to come in Thailand with the idea to learn the Thai massage and we learned more that we thought.
We found ourself in a way that we couldn't imagine before and this experience helped us in many ways. By the massage, we learned our own limits and difficulties, it was hard sometimes but I remenber always that my father told me, the difficulty gives us the strength to move forward. And thanks to your teaching I understood things that we can claim to know without having lived.
I'm glad having meet you and Kim, and all the students, it was the opportunity to open myself to something different. 
Take care about you and Kim!
Hoping to see you soon,
All the best for you,
Charlotte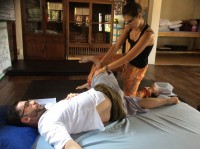 Dora Chakroun from Switzerland 20/02/17
KOPKUNKA! I enjoyed ... I loved my stay in your school!
You are a really good teacher of thai massage but also of life.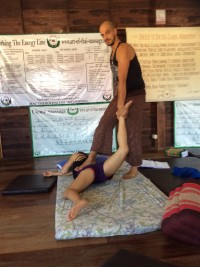 Konstantinos Polytaridis from Greece 06/02/17
I came to the fine art of thai massage and completed levels 1,2 & 3 and really enjoyed it.
The way they teach is very good, very personal experience as the classses are small. If there was anything we needed or any questions we needed answered nothing was too much trouble here. The food was great too! 
My teacher was Mac who was not only a great teacher but a brilliant person too - thank you Mac!
See you all again next year! Thanks again for a fabulous experience!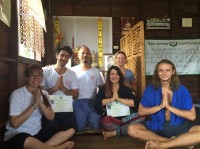 Daniel Favarin from Brasilia   23/05/2016
Finishing the * 1 month Course of Thai Massage * with Mr. Therdchai Chumphoopong (Mac), in Thailand.
The Ancient Art of Thai Massage was created by Dr. Shivaga, Buddha's Doctor, around 600 A.C.
Also known as "yoga for lazy" or "yoga massage", the healing practice works using gentle and strong pressure on energy lines (prana or chi lines) -unblocking the energy once installed there -, also combined with stretching postures. That brings a deep relaxation to the receiver, due to the profound release of tensions found in the physical and emotional layers of the body. 
Proved benefits:
- releases muscular tension;
- improves circulation;
- releases mental and emotional stress;
- boosts immune system;
- helps detoxification;
- lowers blood pressure;
- Increases flexibility;
- improves posture;
- dissolves energy blockages;
- help arthritis, back pain, headache, knee pain;
- prevents illness 
- slows the aging process;
- improves emotional balance;
- improves concentration;
#thaimassage #massagem #thailand #tailandia #asia #trip #travel #therapy #teacher #chiangmai #healing #energy #spirituality #happiness #me #terapia #escola #school #yoga #truth  #meditation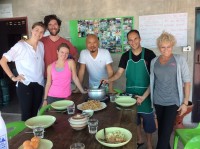 "I was lucky to study with Mac for two weeks in January 2016.
I came as an absolute beginner in Thai Massage. But the way Mac teaches and how the course was structured made it possible for me, to learn a lot in these two weeks. He puts his explenations in clear and simple words so that it was easy to follow for everyone (our group was greek-american-german-mexican-mixed..)! The massaging-lessons are accompanied by a book with sketches of the poses, with enough spaces to take notes. That made it easy to remember everything on a long term and also gives a profound understanding, what exact part in the body you are working on and how one excercise is connected with another. Besides teaching the whole technique, Mac combines his lessons with sharing what he has learned in life so far. You don't only learn how to give a Massage, but also what Thai Massage spiritually means. And all of that in a very natural and down-to-earth way.
I stayed in one of the tents that are located right next to the school and enjoyed it a lot! The sunrise is incredible, and the occasional singing of the monchs in the close-by temple gave me a lot of moments of deep satisfaction. The hole property is very peaceful and especially for me, after a couple of weeks of treavelling around, the perfect place to come down and calm down.
The time I spend with Mac in his school will be a lifelong heartwarming memory and can not encourage you enough, to visit him and practice Thai Massage!
Julia"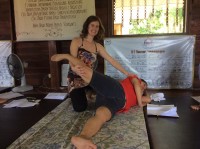 Anna la tana, 09 March 2016
I have spent 4 weeks studying Thai massage with Mac and it's been an incredible experience.
He is not only a patient teacher, but also an exceptional human being. Besides its classes, I also liked his approach and spirit: he doesn't only teach, he takes care of his students and genuinely enjoys what he's doing. He establishes real personal relationships with his students, and this is something I value a lot.
I was an absolute beginner and I was afraid I was going to be too clumsy, but he puts everyone at ease with his patience and his constant smile. He speaks good English, so the communication is smooth, and having taught massage for many years, he has a tested sequence and method.
I didn't have the chance to stay at his place, but some of the students in my class did and they were all happy with their choice. The place is beautiful and Mac always comes up with some activity.
And on top of all this, he also cooked the best meals I had in Chiang Mai! 
I have fond memories of the 4 weeks I spent at the school and would go back any time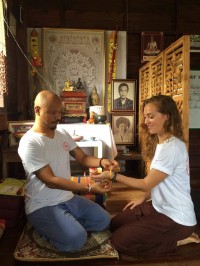 Maaike, from 30 of May to 24 of June 2016
Back in Berlin, unpacking my back full of memories of the past 5 incredible months. Thanks everyone for making this trip awe-some! And thanks especially to Therdchai for teaching me the Fine Art of Thai Massage and sharing some valuable life experiences. Feels great bringing back some of the ancient wisdom to Europe, from energy lines to herbal compresses, and of course the traditional Thai massage (aka 'lazy yoga', meaning you can lay down and I'll do the work haha) Ps. Volunteers wanted :D!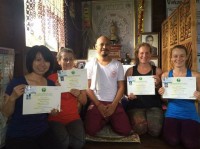 YING HSIU, 11 August 2016
I spent 3 weeks with Mac and it leaves me great memories! I am so happy to make it here:) Before coming to the school, I saw many comments from other students,and there are many things in common,such as a good time with Mac, meeting awesome people, good food..etc. Now I finished my study and I feel exact the same!!! I believe there must be some energy to bring good people here. And the most important, I left with so much knowledge and confidence to offer a Thai massage. 
Before I left, I received Mac's massage and that was incredible!!! This experience makes me want to become a good massage therapist more and more! Highly recommended!!!
And did I mentioned the yummy vegetarian lunch?....
Bill, August 2015
My experience studying with Mac at the Art of Thai Massage can only be described as extraordinary.   
Mac is a natural educator, whose broad experience with (and obvious passion for) the material he is teaching is tempered by his humility and a warm, ready, sense of humor.  He is a person who has clearly found his purpose and is genuinely motivated from the heart to share his knowledge with others.  Put simply, it is my opinion that there is no better place to learn Thai massage or better person to learn from.  The immersive environment, a highly engaged, enthusiastic, and knowledgableinstructor, small class size, and a compelling curriculum all combined to create an exceptional learning experience for me. I've been at this awhile--have taken plenty of courses from a wide variety of other instructors and schools--and have never encountered anything quite as effective.   
Perhaps now more than ever there are many choices available to someone wishing to study massage in Thailand and every student has different needs and expectations as well.  Attempting to strike a balance between the reputation of the school, theclass size, and caliber of your fellow students can be a little daunting, especially if like me, the decision was arrived at from a great distance.  In the end, not everyone is looking for the same thing.  In light of that, I would be happy to share my experiences in greater detail with anyone following this path--drop me an email and we can connect. I can be reached at 
wranney@gmail.com
.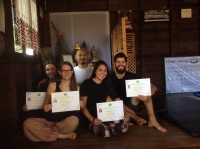 Naomi Eomonds, starting from 2 November 2015
I can recommend The Fine Art of Thai Massage to absolutely anyone who is interested in learning or furthering their skills in Thai massage.  Mac has the gift of teaching; he has a very special ability to teach students of different levels and those who require different ways of learning.  The class sizes small and personal ensuring sufficient time to answer all questions in a way that is completely comprehensive.  Mac makes sure all of his students understand the fundamentals and is always there to re-demonstrate postures and make corrections.  He emphasizes on breathing throughout the massage and insists on finding a comfortable position (for the therapist as well as the patient) so that you can comfortably perform a one or two hour massage by the end of the third week.  
I can definitely recommend staying with Mac.  The school has a serene setting which you can also use to practice with other students after class hours.  The classroom is always open, as is the kitchen and other facilities, making it a very comfortable living arrangement.  Also, there are often bicycles to visit the village and nearby rural area, and sufficient time and space for individual mediation, yoga or napping in a hammock.  Mac cooks a delicious lunch everyday for all his students, and if you stay with him, he often makes time to take you on a cultural adventure.
It's an honour to have met and learned from Mac.  He continues to support his students who practice abroad and often has visitors who return to refresh their skills.  Not only is he a knowledgeable and passionate teacher, but he is also a wonderful person, helping whenever and whoever he can.  A big thanks to Mac and also to Kim for an unforgettable experience and for all of your support, encouragement and inspiration.
From Sam, 2014
"I trained with The Fine Art of Thai Massage back in 2005, taking levels 1 and 2 with Mac. I had travelled to Thailand from the UK with the intention of training in lots of different Thai massage Academies, and was near the end of my trip when I began training with Mac. I ws already trained in basic and sports massage therapy, and so was looking to strengthen my CV by learning Thai massage also. I enjoyed my time in learning massage in Thailand immensely, and learnt from many great schools and teachers. However, if I had to pick a favourite training it would easily be the time spent learning with Mac. 
There are a number of reasons. Firstly, the massage techniques. As I mentioned, I had the luxury of training in a number of the more reputedly schools in Thailand, meeting some great teachers and learning some very helpful techniques. However I feel what I learnt with The Fine Art of Thai Massage was just a cut above. I learnt a variety of new movements or new modifications to more traditional movements, and alongside the effectiveness of the techniques, safety was emphasised at all times. One of the things which impressed me most was the emphasis upon developing skillful touch, rather than just reciting a series of movements, and Mac and his family taught this very well, making sure that all the students were performing them correctly. 
Secondly were the massage sequences. When I was there the sequences taught were 60, 90 and 120 minutes.. There can be huge variation in the way thee sequences are performed in Thai massage, however I found Mac's style to be the most coherent flowing version which I learnt, and it remains the style of massage which I practice today. Northern style Thai massage focuses on stretching alongside pressure point(sen) manipulation. People report that the flow from one position to the next is comfortable and coherent, not disrupting the relaxation of the treatment. 
Finally and perhaps most importantly, Mac, his teachers and his family are all extremely welcoming, friendly and genuine. Mac is hilarious (as well as professional!) which makes learning with him a real pleasure. Questions were always answered, other students and clients were always made to feel comfortable and well seen to, and a good time was had by all. I would recommend the Fine Art of Thai Massage to beginners and more advanced practitioners. Mac has a huge amount to teach no matter what level you are at, and I continue to use what I learnt there today." 
Sam Sykes, Leeds, UK.
I studied traditional Thai massage with Mac for a month and it was an amazing experience. I had been warned about how dangerous this form of bodywork (neck and back jerking movements) could be so I was pretty wary of learning it at first. To my surprise, the way Mac presented the massage was quite the contrary. It could actually be gentle and deep if it was done with finesse. There were non of these jerky manoevres but smooth flowing and coherent movements. Guess what, my 5 year chronic back pain (despite several acupuncture and osteopathy sessions in Europe) is actually gone with 2 healing sessions with him and the fact that I got beneficial stretches myself while doing Thai massage on others ! Surprising !
In fact, Mac puts a lot emphasis on breathing, body positioning and relaxed state of mind of the therapist. This made it actually more of an art than some brutal form of massage that one sees sometimes in the streets or when received from under an untrained person.
I learned a huge variety of techniques under his careful supervision, yet in a most relaxed, even joyful atmosphere. 
Mac is funny, hilarious at times and that makes people so comfortable. He is yet highly professional and focused in his teaching, keeps his very watchful eyes on us at all times and corrects our posture in a firm but encouraging manner.The group was small so there was really maximum attention from him. 
I did the right choice of renting on of his rooms and that enabled me to practise with other students after class hours. In fact his classroom was opened to us all the time ! That certainly has helped me to progress in a tremendous way.
The greatest impression I've had of Mac is his love for Thai massage and his real passion for teaching and sharing this art with people. I'd always remember what he once told me : 'In my next life, I'd choose to do Thai massage again'
All in all, I feel that I've graduated not only with an official Thai massage Diploma, but most importantly, I feel tailor made as a therapist and not a factory product if I'd continued with some big schools. I've made the right choice and I'm really lucky and grateful to have found Mac. Thank you again Mac. Your Thai massage is a dance; You live up to the name of your school : 'the FINE ART of Thai Massage'.  I'm coming back to Chiang Mai with my family to see you next year. All the best, Kim from Singapore/France