Stay with us at the school
If you like, you can stay with us for the duration of your training. 
Actually, most of the students enjoy the hospitality of the school.
We offer a daily vegetarian lunch for our students, so they can focus on their practice. Mac cooks every day according to the his students taste. Simple cooking Vegetarian and Vegan food lunch for all students! You can also cook if Should be you...prefer ! ;-)


Renting one of our rooms is a nice way to have more time for massage practice after classes, and also an opportunity for your morning practice ( Meditation, Yoga,...).
It is also an occasion to be in contact with local life and share the evening meals.  
You also can use our fully equipped kitchen and laundry room during your stay. 

The school is located outside of town, in a calm non-touristic area.
We offer 4 kinds of accommodation:
Students must submit a 2,000 THB (Thai Baht) deposit to secure attendance in a accommodation.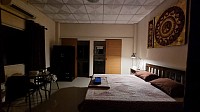 The little house
A full featured small house, with its own bathroom and little kitchen, ideal for couples. This little house has been built recently beside MAC's house.
...500 THB / day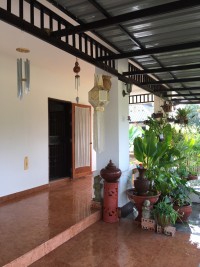 2 "en suite" bedrooms with fan and accommodation:
There are 2 nice bedrooms in MAC's  house with their own shower and toilet.
...400 THB / day
2 twin bedrooms
2 simple rooms with 2 Singles beds each. Suitable for friends staying together or a family (possibility to add an extra bed), with shared shower and toilet. 

... 400 THB / day
One of our "tents in bamboo huts", under the mango trees.
We installed our tents in a Bamboo structure... It gives you a simple and cute little house under the mango trees, with a view on the all garden ... with shared shower and toilet. 

... 150 THB / day
Close to a village and its market
The village is located at about 15 minutes walking from the school and 5 minutes by bicycle. There you can find everything, morning market, food stalls in the evening, 7/11... and their local Sunday market. Lunch is included on the teaching days (Mon-Fri). Students can prepare breakfast and dinner themselves in our kitchen.